Not a racer, but love the energy of just being there?  Trust and believe we have a place for you! Poca Go! is 100 percent volunteer driven.  Without their support in addition to our sponsors, this race would not be possible. 
Experience with the course is helpful for course marshal positions. However, we can certainly find a place for those less familiar to help with parking, check-in, and just general information.  There's also more specialized roles such as photography.
So, how can you get involved?
Great question! Check out open positions using the SignUpGenius button below.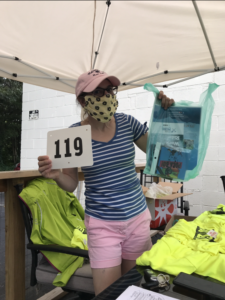 Volunteer check-in will be near the amphitheater inside the Park. Let the attendant the the Park's main gate know that you are volunteering for the race, and you will gain free entry. There is plenty of parking at this location. Some volunteers may choose to check-in at the rvaMORE tent near "The Hub" near the start of Bell Lap/ Blue Jay Way/ Corkscrew/ Lost Spring trails. Be aware that parking at the Loop Forest lot (on Courthouse Rd.) will be on a first-come basis. Allow plenty of time for parking, check-in, and getting to your volunteer location.

You may want to consider bringing a folding chair, snack/lunch, water/beverage, bug spray, sunscreen, etc. You are welcome to ride or hike to your assignment location, and we will have some limited transportation available via Gator or UTV. If you know you will require transportation (or if you need us to drop a chair), let us know in advance and we will do our best to accommodate. If you are not familiar with the park, our team will help you get to the correct location and will be available to provide assistance throughout your time block. Please have your cell phone available so you can reach us and we can reach you on race day.
Please note that the time slots for volunteer assignments are best guess estimates and are subject to change within reason as details are fine tuned. We will be in touch with all volunteers in advance of the race to ensure you understand the requirements, how to get to your location, and to answer any questions you have.
Lastly, THANK YOU! As mentioned above, this event would not happen without our awesome volunteer community. If you have any questions, please contact us at [email protected].