Pre-rides and Early Packet Pick-up:
It's a good idea to pre-ride the race course. Turn-by-turn directions and a course map are available below. Early packet pick-up is available the day before the race. See the Schedule of Events below.

If you cannot make Early Packet Pick-Up, you can still get your packet on race day.
Use Address – 10301 State Park Rd, Chesterfield, VA 23832. That should take you to the main gate at Pocahontas State Park. When you get to the gate house, let them know that you are there for the race and you will gain free entry. Follow the fluorescent yellow Poca Go! signs to the Amphitheater Parking Lot (1 ½ miles to the very end of the road).
Spectators can watch from a variety of spots on adjacent fireroads. For the safety of the racer and the spectator, DO NOT watch from on or next-to a trail. Download this .JPG map of suggested viewing areas.
See the Course Info page for turn-by-turn directions and to download a PDF of the course map.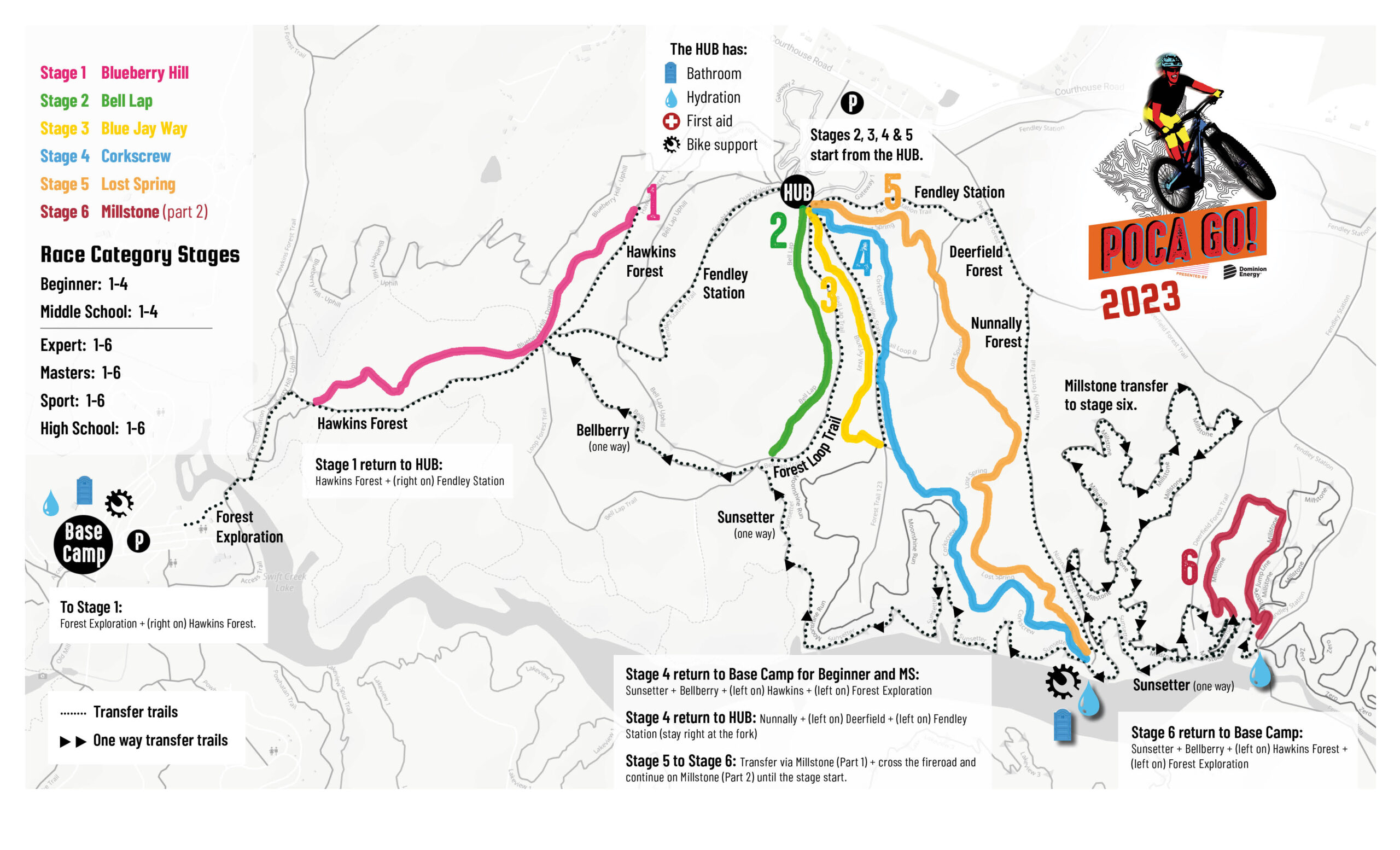 Once parked, everyone will check in at Base Camp: walk toward the Amphitheater entrance. Race day packet pickup and check-in will be located behind the Nature Center, (follow the signs – we refer to this area as 'Base Camp'). There are restrooms to use here.  See the course map for locations of all services.
Checkout our Poca Go! gear tent at Base Camp. Friends of Pocahontas State Park will have soft drinks and beer for sale, and the Brew food truck will be on-site.
We recommend that you leave base camp at least 30 minutes prior to your race start time. From the registration/Base Camp, ride your bike through the parking lot, down the hill toward the boat ramp, over the pedestrian bridge and up the fireroads to Start of Stage 1. There will be course marshal volunteers and signs to direct you.
The start times are included below, and an email will go out before race day with official start times for each category. The HUB will be at the top where most of the trailheads are located (Swift Creek trailhead) where a bike maintenance tent, a hydration station, a porta-pottie, and our first aid/emergency medics are in this area.
Volunteers will be stationed along the course. If you need help or have questions, please ask a volunteer in a green shirt.  Each stage starting gate (chute), will be monitored by volunteers to aid the racers on when they can start. Racers start 30 seconds after the person in front of them. Starts will be rolling: you will start at the beginning of the chute but the timing sensor won't pick up your chip until you exit the chute.
Early packet pick-up will be at Steam Bell Beer Works. Time: 4-7 pm
1717 Oak Lake Boulevard
Midlothian, VA 23112
** $1 off beer for racers and volunteers during packet pickup**
8:00 AM-10:35 PM
Packet and Chip pick-up at race "Basecamp." See your category below for specific times.

9:00 AM-2:00 PM
Racers on course
1:30-2:45 PM
Awards ceremonies
3:30 PM
Clean up
2023 Race Schedule per Category:
After completing your final stage, proceed back to Base Camp. Awards will be held in this area. Return your timing chip (mandatory). This is very important in order to tabulate your results.
Poca Go! gear will be available at the merchandise tent.
Friends of Pocahontas State Park will have soft drinks and beer for sale, and the Brew food truck will be on-site.